Food Vendors
BENKEI RAMEN
Japanese Ramen (Tokyo Shoyu, Negi-Shio, Koku-miso Tonkotsu, Spicy-miso)
---
SUZUYA
Croquette Bun, Lemonade, Lemon Soda, Cola Float, Taiyaki
---
HATCHAN TAKOYAKI
Tako-yaki (Octopus Balls, Shrimp Balls)
---
OKONOMIYAKI HOUSE
Okonomi-yaki, Yakisoba, Ika-yaki, Oden
---
POTATO-SAN
Deep-fried Spiral Potatoes with various Japanese-style toppings
---
CREPE SASUKE
Japanese-style crepes with ice cream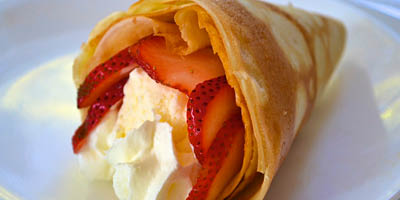 ---
TANGRAM CREAMERY
---
ICHIYO'S MATCHA BAR
Matcha Latte, Iced Matcha Latte, Iced Matcha, Usu-cha, Matcha Frappe
Food Trucks
Popular food trucks are back again this year!
---
Mogu
Sweet & Spicy Chicken Karaage, Ebi-katsu Sandwich, Pork-miso Katsu
---
JAPADOG
Japanese-style hot dogs with unique toppings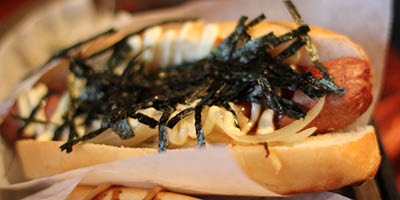 ---
TERIYAKI BOYS
Teriyaki Chicken Don, Teriyaki Beef Don, Teriyaki Tofu Don, Garlic Shrimp
Game Zone Food
Found inside the GAME ZONE. Only Nikkei Matsuri Money accepted.
---
Popcorn
---
Cotton Candy
---
Shaved Ice
---
Pop & Juice
---
Beverages
BEER & SAKE GARDEN
The Beer and Sake Garden will be located outside. Beer, wine and sake will be available for sale. Must be 19+ years of age. Stop by for a refreshing drink, and then relax in the sun while you watch the action!
日系ガーデンにあるビアガーデンではビール各種、ワイン、日本酒をご用意しております。(19歳以上の方のみ入場可)快適なテントの下で、ガーデンで催される盆踊りや太鼓などいろいろな催し物を見ながらリフレッシュして下さい。
---
NIKKEI CAFÉ – LOCATED ON THE 2F
Sip and enjoy energizing coffee and revitalizing teas while indulging in delectable desserts. Step into the Matsu* Room (201) oasis on the 2nd floor at the top of the stairwell overlooking our Ellipse Lobby. Café vendors include:
Republica Coffee Roasters リパブリカ・コーヒー・ロー スターズ

Coffee, Iced Coffee, Lattes, Iced Lattes, Organic Agave Syrup, Cold Brew, Roasted Coffee Beans

http://www.republicaroasters.com
Baker & Table ベーカー&テーブル

Melon Pan (traditional, matcha red bean mochi, matcha white chocolate mochi, dark chocolate mochi and strawberry matcha mochi flavor).
http://www.bakerandtablecafe.com/
This post is also available in: Japanese