Nikkei Matsuri is Burnaby's family-friendly Japanese festival in the heart of Metro Vancouver!
A "matsuri" (meaning festival) has long been part of the cultural landscape in Japan. Many nikkei communities across North America and around the world carefully preserve and follow this tradition. Nikkei Matsuri provides a platform to celebrate Japanese culture through food, music, entertainment, games, and more.
Come join the Nikkei National Museum & Cultural Centre over the Labour Day weekend to be immersed in an authentic Japanese festival in your very own community.
日系祭りは、メトロバンクーバーの中心、バーナビーで開催される家族で楽しめる日本のお祭りです。
祭りは長い間日本の地域コミュニティで文化として受け継がれてきたもので、北米の多くの都市でもこの伝統を守ろうと、祭りが再現されています。日系祭りは多くの皆さまに楽しんでいただくよう、より一層充実した屋台フード、音楽、エンターテイメント、ゲームなどを通して、日本文化を紹介していきます。
レイバー・デーの週末は日系センターで地元のコミュニティの皆さんとともに、本場の日本の祭りに参加して思いきり楽しみませんか?

What you can expect at a Matsuri
The Origins
The original matsuri in Japan is a ceremony to thank, pray, and commemorate gods, ancestors, and Buddha. There are many types of Matsuri: it can be a celebration to offer thanks for a large catch of fish, good business, health of a family, prosperity, and many more. During the event season, the focus of the Matsuri varies from region to region.
A typical Matsuri hosted by a Shinto Shrine or Buddhist Temple has local people carrying mikoshi, which represents the guardian god. These participants wear happi coats, and dance along (bon-odori dance) with the parade. Today, matsuri is held to unite the community through an event that brings young and old together. Hundreds of small and large matsuri happen throughout the year in Japan.
A matsuri has two aspects. One is a strict religious ritual and the other is a merrymaking party that allows the people carrying mikoshi to wear fundoshi (loincloth).
Mikoshi
In the Shinto religion, the Shinto spirit rests in the Shinto shrine. During matsuri time, the Shinto spirit gets carried in the portable shrine, or mikoshi.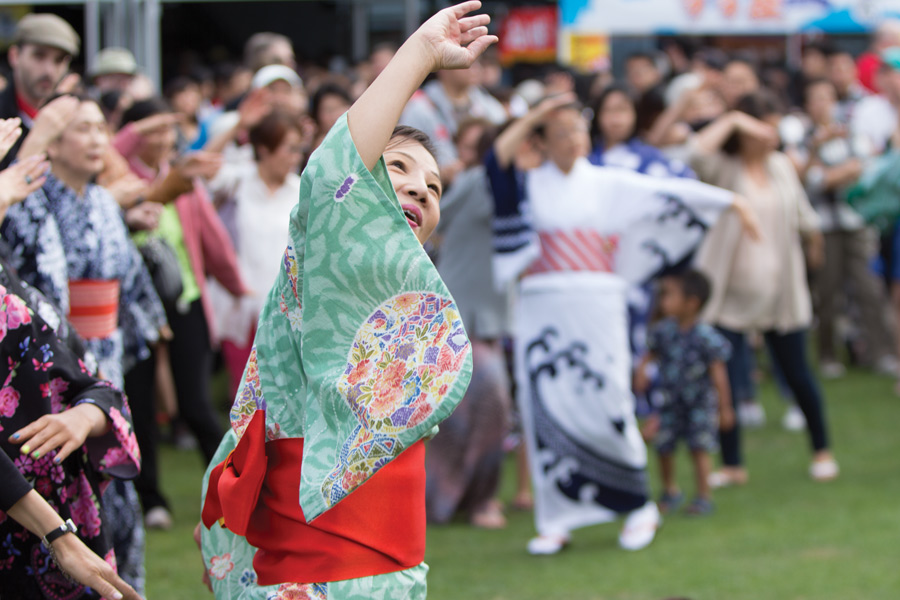 Bon-Odori Dance
The Bon-odori dance is held to honour a departed soul. Bon is a midsummer Buddhist celebration honouring the souls of the dead. Members of the local community perform the Bon-odori dance around the yagura, which is set up in the centre of the matsuri.
Happi Coat
The traditional clothing worn at a matsuri is a knee- or hip-length top coat with long sleeves. It normally has a family, group, or town emblem on the back, chest, or on the collar. Happi coats are also worn at company promotions, and can also be a uniform for firefighters.
Yagura
A tower set up in the centre of a plaza at the matsuri People play music on the yagura.
Shishi-Mai (Lion Dance)
In Shishi-mai, or lion dance, a dancer dances around the matsuri wearing a lion head. Originally, this dance was used to ward off the plague and devils. Since the Edo period, it has been considered a lucky dance, and today it is performed at many festivals.
Matsuri Food
Experience an array of food at Nikkei Matsuri!
We are happy to offer festival goers many great food options from our food vendors, food trucks, game zone food, and beverage spots.
Japanese-style Kids Games
The fun never stops! Play games and WIN prizes!
Fish for colourful balloons at Yo-yo Tsuri (Yo-yo Balloon Fishing) without your hook breaking! Aim and see what you can shoot at Shateki (Prize Shooter) or see if you can find a matching pair at String Pull! Find these games and more in the Games Zone!