Join us at Burnaby's authentic Japanese family friendly festival in the heart of Metro Vancouver!
A "matsuri" (meaning festival) has long been part of the cultural landscape of the Japanese community, not only in Japan but in many cities across North America. In 2013, the inaugural Nikkei Matsuri was held at Nikkei Centre, bringing an authentic Japanese festival experience to Burnaby. Since then, we have annually welcomed over 13,000+ people to enjoy the many festivities Nikkei Matsuri has to offer each year. We invite everyone to come and experience Japanese culture through food, music, entertainment, Japanese kids games and more!
Message from the Organizing Committee Chair
Celebrating its 6th year, Nikkei Matsuri is pleased to welcome special guest from Japan, Iga Ninja, who will lecture and demonstrate traditional Ninjutsu arts.  Also featured this year is Mrs. Candy-G's "Amazing Candy", with her creative animal figurine candies.
The Mikoshi Shrine parade, Bon-Odori Dance and Martial Art demonstrations return in this year's line up along with a performance from our festival partner, Indonesia.  Enjoy the spectacle of witnessing the birth of this year's "star" at the "Matsuri Star Talent Search" presented by Vancouver Shinpo.
Enjoy Yoyo, Hello Kitty sand picture workshop, the Marketplace, the used Japanese book sale and the ever popular street food and beer garden with cold SAKE, along with Yukata (Summer kimono) service and much more.  Travel Raffle tickets can be purchased during the festival.
Please join us this labour day weekend at an authentic Japanese summer festival at the Nikkei Centre!
Louise Akuzawa
Nikkei Matsuri Organizing Committee Chair
Message from the Executive Director
We are extremely proud to present to the community the Nikkei National Museum and Cultural Centre's sixth annual Nikkei Matsuri family festival. Each year this celebration of Japanese Culture presents an experience for Canadians that is as unique as it is wonderfully entertaining and 2018 is set to not disappoint.
With an incredible lineup of performances from the Matsuri Star Talent Search, unique entertainment from Japan, and food that raises the bar of expectation every year. 2018 is planned to be everything that our guests are expecting and more.
This year we have the honour of welcoming special guests from Mie Prefecture of Japan, Tomonosuke and Kotetsu, traditional Iga Ninjas  as well as various entertainment that is sure to  exceed your expectations. We are truly excited to present this year's festival.
Throughout the past 5 years, Nikkei Matsuri has attracted more than 55,000 guests and has grown to be one of the jewels of the Cultural Celebration community. Everyone who participates can be truly proud of what our Japanese and Japanese Canadian celebration has to offer. As we always welcome all cultures, I would like to express a special acknowledgement to the Indonesian community who has partnered with our 2018 Celebration.
I would also like to thank our army of over 350 volunteers — without their support we would not be able to stage our Matsuri festival.
On behalf of the Board of Directors, our dedicated staff and as mentioned our wonderful volunteers,  we welcome you to the 6th annual Nikkei Matsuri. We hope that you will enjoy everything that the festival has to offer.
Roger Lemire
Executive Director at Nikkei National Museum & Cultural Centre 

What you can expect at a Matsuri
---
The original 
matsuri
 in Japan is a ceremony to thank, pray, and commemorate gods, ancestors, and Buddha. There are many types of Matsuri: it can be a celebration to offer thanks for a large catch of fish, good business, health of a family, prosperity, and many more. During the event season, the focus of the Matsuri varies from region to region.
A typical Matsuri hosted by a Shinto Shrine or Buddhist Temple has local people carrying mikoshi, which represents the guardian god. These participants wear happicoats, and dance along (bon-odori dance) with the parade. Today, matsuri is held to unite the community through an event that brings young and old together. Hundreds of small and large matsuri happen throughout the year in Japan.
A matsuri has two aspects. One is a strict religious ritual and the other is a merrymaking party that allows the people carrying mikoshi to wear fundoshi (loincloth).
Mikoshi

In the Shinto religion, the Shinto spirit rests in the Shinto shrine. During
matsuri
time, the Shinto spirit gets carried in the portable shrine, or
mikoshi
.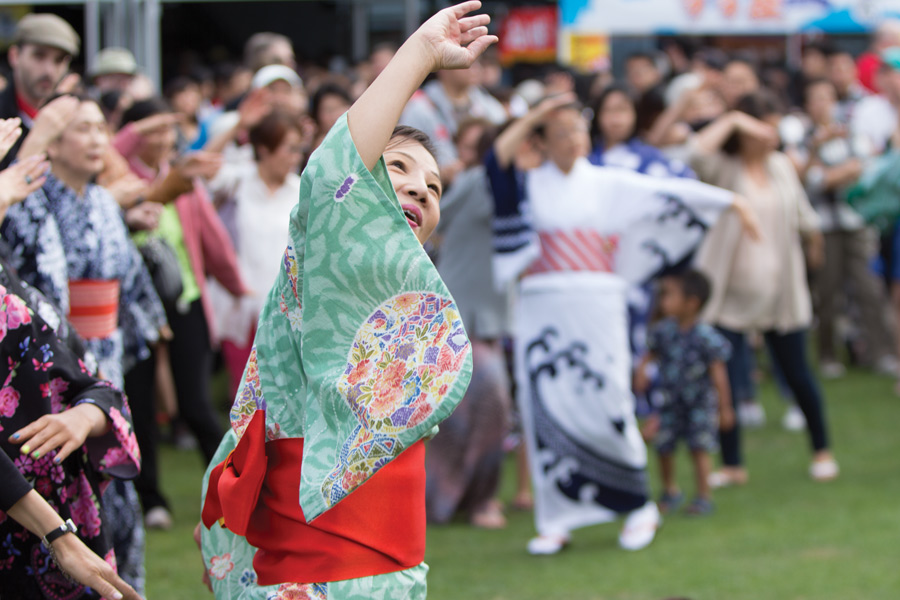 Bon-Odori Dance
The Bon-odori dance is held to honour a departed soul. Bon is a midsummer Buddhist celebration honouring the souls of the dead. Members of the local community perform the Bon-odori dance around the yagura, which is set up in the centre of the matsuri.
Yagura
A tower set up in the centre of a plaza at the
matsuri
. People play music on the
yagura
.
Happi Coat
The traditional clothing worn at a matsuri is a knee- or hip-length top coat with long sleeves. It normally has a family, group, or town emblem on the back, chest, or on the collar. Happi coats are also worn at company promotions, and can also be a uniform for firefighters.
Shishi-Mai (Lion Dance)

In
Shishi-mai
, or lion dance, a dancer dances around the
matsuri
wearing a lion head. Originally, this dance was used to ward off the plague and devils. Since the Edo period, it has been considered a lucky dance, and today it is performed at many festivals.

Matsuri Food
---
Takoyaki
Takoyaki

A small ball made of flour dough, with octopus inside and special sauce and condiments on top.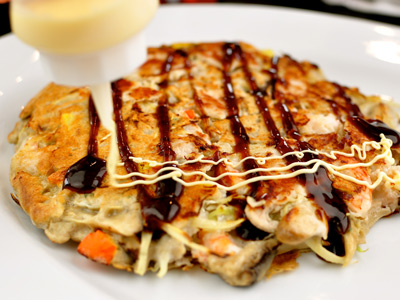 Okonomi-yaki

A pancake made of flour and eggs, with ingredients of seafood, meat, and vegetables. It is topped with mayonnaise, sauce, and seaweed.

Japanese Style Games
---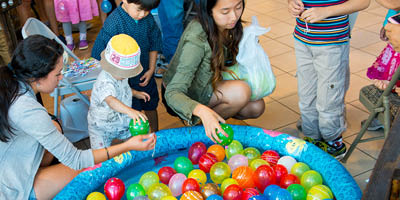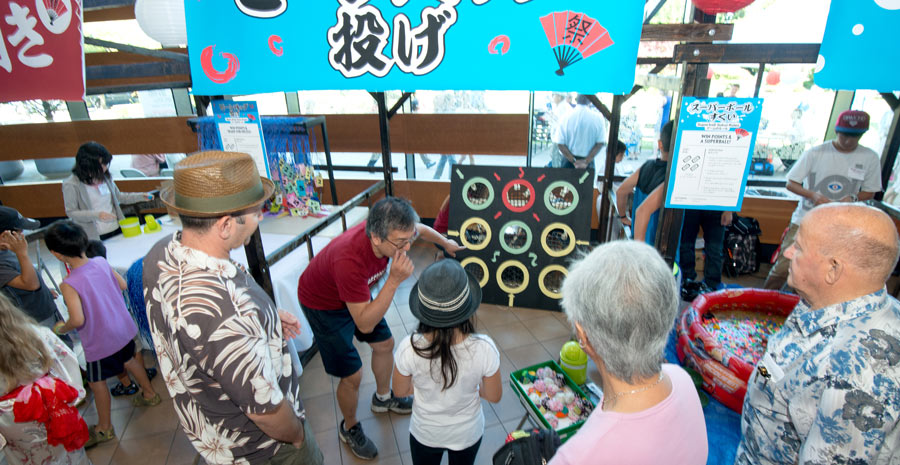 Yo-yo Tsuri (Yo-yo Balloon Fishing)
ヨーヨーつり

"Fish" colourful yo-yo balloons with a hook – they're yours to keep and you can bounce them up and down like a yo-yo!
夏祭りで大人気のゲームです。カラフルなヨーヨー風船を釣り上げてみましょう!
Shateki (Prize Shooter)
射的
Shoot targets with a toy gun. Smaller targets score higher and give you more tokens! Some targets are instant prizes.
おもちゃの銃を使って的を撃ちます。倒した的のポイントより景品と引換できるスタンプがもらえます。 的には景品もあるよ.
Wanage (Ring Toss)
輪投げ
Toss rings at the stakes – land on the stakes with high points and earn more tokens!
ポイントのついた的棒に向けて投げ輪を投げます。得点に応じてスタンプがもらえます。
Balloon Dart
風船ダーツ
Test your aim by popping balloons with darts!
風船に狙いを定め、ダーツを投げて風船を撃つ!
Bean Bag Toss
ビーンバッグ投げ
Aim for higher point holes to get more tokens.
高得点の的を狙いましょう。アンダースロー?
オーバースロー?どちらがうまくいくかな?
Bowling
ボーリング
Knock down all pins! It's harder than you think.
倒すピンは全部で5本。見た目より難しいよ。
Ticker Wheel
ルーレット 
Spin the wheel and see which slot it lands on to win points or instant prizes!
ルーレットを回転。矢印が止まったスロットに書いてあるポイントかインスタント景品をゲット!
Mini Golf
ミニゴルフ 
Putt a ball into a hole and get prizes or points.
ゴルフボールを穴に入れてポイントや景品をゲット!
This post is also available in: Japanese